For many women, a domestic violence experience is an immediate cause of homelessness. Women that are struggling to survive and escape the stress and chaos of their lives are foreign to the idea of pampering themselves. In contrast, many women that I know also have strong stressors in their lives and work hard to protect the time they spend to attend to self-care with acts of pampering themselves! Although the stressors may be different, the commonality between the women that I know personally and the women that are enduring the harsh realities of homelessness is that pampering—a day to relax and focus on self-care—is a way to relieve stress and promote wellness. In my opinion, every woman, no matter her circumstances, deserves that opportunity.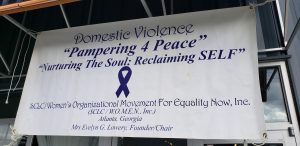 For the past 8 years, I have committed my time in an effort to help to promote wellness in women that are experiencing homelessness due to domestic violence by volunteering as the coordinator for Pampering 4 Peace in Atlanta, Georgia with the Southern Christian Leadership Conference Women's Organizational Movement for Equity Now, Incorporated, (SCLC/WOMEN, Inc.). Our most recent event was held on October 8, 2018, in honor of National Domestic Violence Awareness month.
Pampering 4 Peace
For the past 10 years, SCLC/WOMEN, Inc., has organized Pampering 4 Peace events to offer spa services to women that are experiencing homelessness due to domestic violence. Women are served breakfast and lunch during their full day of spa services, which include pedicures, manicures, hair, makeup, and massage. Free breast exams and medical consultations are also part of the services offered. Women can choose as many services as they'd like. Top Atlanta salon owners, stylists other professional cosmetologists provide these services free of charge. This year, 54 women received professional spa treatment and pampering services.
Each year, the event is hosted by a different salon owner at an undisclosed location. Although I am part of the planning team that coordinates and solicits volunteers, on the day of the event, my job is to welcome the guests, coordinate their personalized spa schedule and to do my very best to make their experience fun and relaxing in a space that is safe and welcoming. Although there is a lot of planning behind the scenes to coordinate the volunteers and solicit services from professionals willing to donate hundreds of dollars of their time and talent so freely to these women, I always gain more than I give at the event.  I gain the joy in hearing the laughter of these ladies as they enjoy the experience. I gain the opportunity to offer these women any spa service they want and see the surprise in their eyes when they are offered the power of choice. I gain the chance to see the tears flow from tired and weary eyes as these women embrace the services and relax as someone washes their hair, massages their hands and feet, and serves them with dignity and respect. I gain the privilege to see the look on their faces as they look in the mirror with confidence in their appearance and remind themselves that they are beautiful. I gain the opportunity to connect with women in a way that only women can, and, the best part, I gain the experience of working with talented compassionate people who treat these women like Queens for the day—without ever making them feel as though their crowns were ever broken.
About SCLC/WOMEN, Inc.
Established in 1979, SCLC/WOMEN, Inc. offers generational programs designed to empower women, girls, and families as they relate to human rights, social action, economic self-sufficiency, reduction of health disparities, and leadership to build strong families and communities. SCLC/Women is a sub-group of the Southern Christian Leadership Conference established in 1957 with the goal of redeeming "the soul of America" through nonviolent resistance. Today, SCLC is a nationwide organization with chapters and affiliates located throughout the United States. It continues its commitment to nonviolent action to achieve social, economic, and political justice and is focused on issues such as racial profiling, police brutality, hate crimes, and discrimination.
The Domestic Violence Hotline
Are you experiencing intimate partner violence, seeking resources or information, or questioning unhealthy aspects of your relationship? Contact the National Domestic Violence Hotline by calling 1-800-799-7233 or visiting https://www.thehotline.org/. Their trained advocates are available 24/7/365.