It's been another incredible year at PRA, full of "transitions" – our 2013 word of the year. The most notable transition at our annual State of the Firm was the orator – our new CEO, Pam Robbins, delivered the speech for the first time instead of our President and founder, Hank Steadman.
This year, Pam brought a new twist to our word of the year tradition, inviting staff to submit their guesses for the word of the year, which were then displayed on a virtual Christmas tree in the conference room. Submissions ranged from kaizen or "good change" to supercalifragilisticexpialidocious, but no one guessed the 2014 word of the year: hurdles.
Pam explained that this was a transformative year for PRA – we've transitioned our leadership, had one of our Officers retire, made changes to our staffing and organizational structure, implemented new processes, and have watched some tasks and projects come to the end of their lifecycle while welcoming in new opportunities.
As a 50-person company, we are incredibly nimble and can adjust to any major organizational shift with speed and grace. We're fortunate to have creative, hardworking staff who do incredible, impactful work. Let's take a look back on the work we have accomplished over the past year and look forward to our plans for 2015…
Looking Back
Looking back on 2014, here is PRA by the numbers: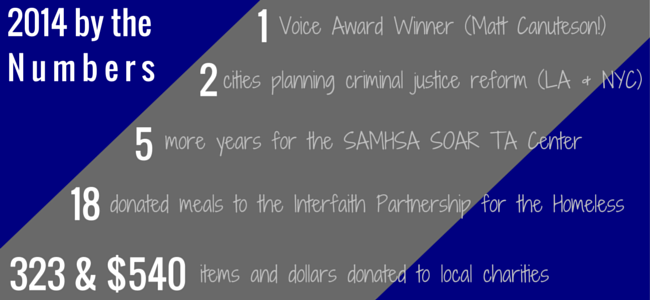 1 Voice Award: Our own Matt Canuteson, Project Associate at the SAMHSA SOAR TA Center, won a 2014 SAMHSA Voice Award in Consumer Leadership. The award honors consumer and peer leaders whose work and personal stories of resilience are educating the public about behavioral health. Congratulations, Matt!
2 cities planning criminal justice reform: PRA's Sequential Intercept Mappings for New York City and Los Angeles County made headlines…literally! These two consultations sparked major policy shifts for each city's criminal justice system, with a greater emphasis on diversion to treatment and more resources for those with mental health issues.
5 years: We were notified this September that our SOAR TA Center was renewed for an additional 5 years! The SOAR TA Center's capacity has expanded through the addition of 2 new staff and the establishment of an online training curriculum, which is bringing the SOAR program to more individuals around the country. We're excited to see the incredible things that the SOAR TA Center will accomplish in the next year under Project Director Kristin Lupfer's lead.
18 donated meals: This year we continued our partnership with the Interfaith Partnership for the Homeless and sponsored 12 breakfasts and 6 dinners throughout the year. Our staff members have cracked approximately 1,296 eggs and chopped 120 pounds of potatoes throughout the year to serve hot breakfasts to those in need.  We're already brainstorming delicious food for our 2015 meals. This is one of our favorite community service campaigns, and we are thankful for all of the staff who participate.
323 items and $540 donated to local charities: Throughout our annual Month of Giving campaign in November our staff members' collective efforts brought us to new heights in our giving campaign. This year, we chose five beneficiaries, (the U.S. Committee for Refugees and Immigrants – Albany office, the 361st Military Police Company, Equinox, the Bethlehem Community Fund, and Parsons Child & Family Center) and collected items including winter coats, 35 pounds of stuffing, DVDs, and grocery store gift cards to make the holidays a little brighter for our neighbors in need.
Looking Forward
We have a lot of incredible things to look forward to next year:
The implementation of a 3-year grant from the Conrad Hilton Foundation to advance use of the Screening, Brief Intervention, and Referral to Treatment (SBIRT) model. Through this grant, we will test and implement the SBIRT model as a means of identifying and treating youth with behavioral health disorders as early as possible in juvenile justice settings.
The addition of 2 new staff members on SAMHSA's Service Members, Veterans, and their Families Technical Assistance Center. The SMVF TA Center is adding a Project Assistant and Project Associate to better assist state teams with the implementation of their strategic plans.
A new partnership between the SAMHSA SOAR TA Center and Dartmouth Psychiatric Research Center, which will expand the ways SOAR providers incorporate employment support into their work. Stay tuned for Dartmouth's issue brief and webinar on the topic, coming later this year.
A wide variety of activities to be completed in the criminal justice division, including conducting GAINS Trauma Trainings and SIM Workshops, working with SAMHSA's Behavioral Health Treatment Court Collaboratives and Early Diversion grantees, and increasing participant recruitment in the VJP Evaluation.
We're excited for all that 2015 has to bring us and hope that you'll be with us every step of the way.