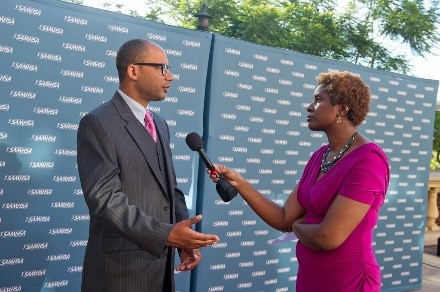 In August Policy Research's Matt Canuteson was awarded the prestigious SAMHSA's Voice Award for consumer leadership. He joins Policy Research's LaVerne Miller in this distinction, who was honored with the award in 2010. To think of it: two staff of one small company in one large country have now won this national award!
The SAMHSA Voice Award recognizes individuals with lived experience of mental health and substance use disorders who provide exemplary leadership and hope to people with behavioral health issues. Honored at the same time are television, film, and documentary writers and producers who also work to dispel public misperception and intolerance.
Perhaps more than some, I am a little vague when it co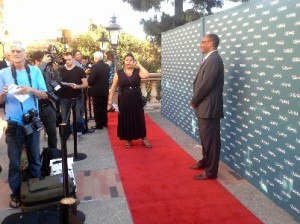 mes to the achievements of my coworkers. My hearing loss tends to keep me in the dark about details that come out during the introduction of a speaker or that pass around in staff conversation. I knew Matt's title (Assistant Director of the Statewide Family and Consumer Networks TA Center) and I knew about the many written products that come from the Center. I knew I liked working with Matt – that was easy. It is hard to quite put my finger on, but there is something about his voice and manner I find calming and reassuring. There was a lot I didn't know. To learn more, I turned to Pam Robbins's and LaVerne Miller's letter of nomination:
Matt began his personal recovery journey from a psychiatric disability and addiction as a young adult. He experienced both homelessness and incarceration as a consequence of his behavioral health disorders. Overcoming significant obstacles, he went on to earn a bachelor's degree in Political Science. Following this achievement, he entered the behavioral health field as the first Youth Coordinator for Families Together in New York State's CMHS Systems of Care Grant. Using his personal experiences, Matt tirelessly advocated for the inclusion of the youth and family voices and peer-to-peer support in local system development and service delivery.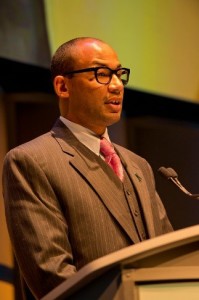 As a policy specialist at the New York Association of Psychiatric Rehabilitation Services (NYAPRS), Matt played instrumental roles in numerous successful advocacy campaigns to advance or protect funding for community recovery services, employment, community integration, and advancing the rights of New York's adult home residents and state prisoners with psychiatric disabilities. Again pushing the importance of peer-to-peer support, in 2009 he helped write and successfully advocate for the introduction of state legislation in both houses that advanced funding and authorization for peer crisis respite programs across New York State.
Also in 2009, Matt joined our ranks here at Policy Research. As the assistant director for SAMHSA's Statewide Family and Consumer Networks (FCN) Technical Assistance Center, he provides technical assistance, guidance, and support to the statewide networks. Matt is passionate about his work with young adults and the unique issues facing this population as they transition from child/family-serving systems and supports to the adult world. He is frequently called upon to share his expertise at the local, state, and national levels.
Matt has dedicated both his personal and professional life to educate the public about the needs of people with psychiatric disabilities, particularly young adults, and empower them to seek services and supports that enable recovery; led efforts to reduce the discrimination and misperceptions associated with behavioral health problems; and made a positive impact on his workplace and community.
Of winning the Voice Award, Matt said he was grateful but that it was the work itself and his own ongoing recovery that drive his efforts to make sure it's possible for everyone. Matt's response to winning doesn't surprise me at all. The reward for Matt lies in the people he reaches whose lives are bettered for his efforts.
Matt notes those with mental illness and addiction continue to face a lot of injustices, mainly because of the stigma and false perception that people with behavioral health issues are dangerous. That stigma makes it hard for them to hold down and keep a job, be productive in society, and stay clear of the criminal justice system.
Congratulations and thank you, Matt! We at Policy Research are so proud. Your winning this award helped me better understand why I like your voice and manner so much – they convey reason and hope. Your achievements are an inspiration to us all!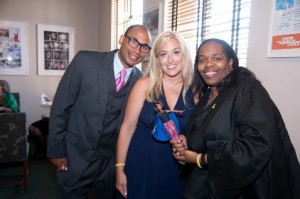 To read about Matt's journey in his own words, please visit the August GAINS newsletter: http://gainscenter.samhsa.gov/eNews/august14.html