For those outside PRA, we have a great benefit to take a "Day of Reflection" each year. The program is designed to promote job satisfaction by providing time for staff to reflect on their lives with special emphasis on career planning, goal setting, and/or other job-related personal activities. This is my seventh year at PRA, and while I've typically taken my DoR to prepare for annual performance reviews, this year I did something a little different and spent a night in a Getaway outpost in the Catskills.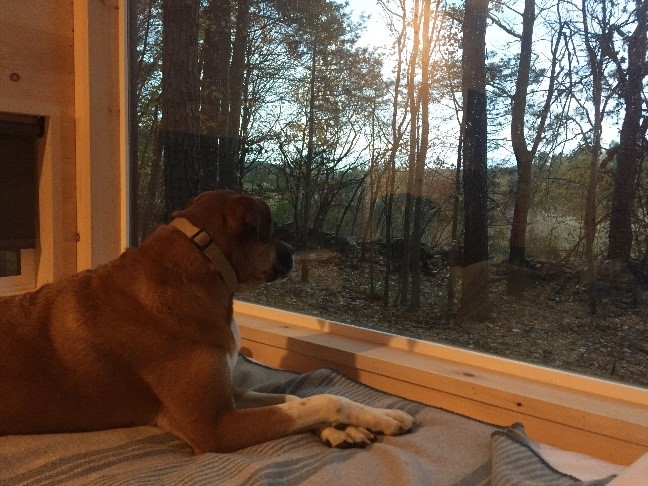 I'd heard of Getaway a few years ago, and more recently when they were promoting a second outpost in Catskill East. The company builds rentable modern, compact, and comfortable tiny cabins in the woods, each within about two hours from major cities (Atlanta, Boston, Dallas, LA, NYC, Pittsburgh/Cleveland, Portland, and Washington, DC so far), to "create a counterbalance to the noise created by our cities, technology, and work." There's a strong focus on disconnection- there is no Wi-Fi (nor will there ever be), no clock, and books on themes like "how to relax" and legendary hiking trails. Comfort isn't sacrificed at the expense of retreat, however. There are one or two queen beds in each tiny cabin, and there is a tiny bathroom and a kitchen with enough basic tools to cook most things you could think of. The highlight is a huge window the size of a wall (with rolling shade should you not wish to see the sunrise, which I never do). I brought my dog Penny (all the units are dog-friendly) and she loved the window also, frozen for part of the afternoon staring at a squirrel.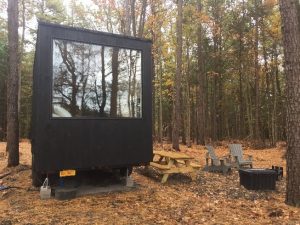 I drove about an hour south to the location, stopping first at a local general store recommended by the location-tailored posts on Getaway's site. Their attention to detail was impressive- a dog tie out attached to the picnic table, a hand-written note on the information envelope, tiny olive oil packets, etc. I was somewhat disappointed to realize that well there was no Wi-Fi, there was still cell service, so I eventually put my phone on airplane mode.
The cabins are all named after the staff's grandparents. It's the general rule that quiet hours are always, within reason. While you can see other cabins, they're intentionally angled so you're not overlapping or looking in your neighbor's window, so it still feels fairly private. I've been considering the idea of noise pollution a lot recently and being at the outpost was the opposite- a radio (with Bluetooth) for light music if you wanted it, but otherwise you wouldn't need to hear anyone else's voice for your trip. This was intoxicating, and only occasionally interrupted by dog whines.
I cooked gnocchi with vegetarian sausage and Brussels sprouts, ate directly from the bowl, and didn't have to wash a plate. One of my goals of this trip was to work through a woman-centered career handbook, which a friend had given me months earlier. I spent the afternoon and evening focused on the thought and writing exercises in particular, which were helpful in processing professional, personal, and habitual goals. I'm in somewhat of a transitional phase, and the quiet, centering time dedicated to sorting out thoughts and plans was very welcome.
The next day we "checked out" (just leave with the door locked, again, no need to talk to anyone!) and drove about 20 minutes to hike to Kaaterskill Falls. It felt like cheating to be there on a workday, and we both loved the overlook and hike down to the bottom of the falls. After the much longer hike back up, we stopped in Hunter for solo lunch, and one of us napped on the drive back home!