The past few months have been strange, to say the least. I am an introverted person and normally stay home most of the time, but being on lockdown and having small comforts like a night out at the movies can take its toll. Anyone that knows me knows that I bake as a stress reliever. It helps me to stop thinking about whatever is bothering me by focusing on one specific task. I like to mix different flavors to see what I get; sometimes it turns out great and everyone loves it! Other times…not so much, but it's ok because for me—it's the journey, not the results.
These unprecedented times spawned an opportunity I don't think I would have had otherwise. The Netflix Nailed It! At Home Experience! In late August I received an email that Netflix, together with Fever, were hosting a Nailed It! at-home challenge for amateur bakers. I may have received the email because I also signed up for another Netflix show, The Circle, but that may be a completely different blog post later. After receiving the email, I immediately signed up and crossed my fingers and toes that I would be one of the lucky ones to make it into the challenge.
After weeks of waiting, I received another email that verified that I made it into the challenge! I was super excited and just knew I was going to do great. Unlike the original show, you could enlist the help of family members, so I asked my aunt to be my number two. She used to teach cake decorating at Joann's, but she doesn't have any formal training and is just naturally talented. With her help, I just KNEW we had it in the bag! Well…I was wrong.
The challenge itself was extremely fun. We logged into the Zoom meeting a bit nervous but prepared. Our host for the event was a producer on the show (not Wes, unfortunately ☹) and the host of Nailed It Mexico! I have watched all the versions of Nailed It!, so I was familiar with him, and it was a pleasant surprise. After all the rules were explained, they gave us 40 minutes on the timer, and off we went, trying to make an alien cupcake with eight eyes made of marshmallows and six tentacles made of fondant. This is where I should have known things would have gone awry because I never worked with fondant before, but I was optimistic! I mean, it can't be that hard, right? I watched YouTube videos leading up to the event, so I was confident. Plus, I had my aunt there helping me, so what could possibly go wrong?
Well, Netflix had their own ideas, and while we were diligently working, they decided the challenge wasn't challenging enough. They gave us an extra challenge of working one-handed for 3 whole minutes! How on earth do you roll fondant one-handed? Short answer, you can't! It's hard, but it's a timed competition, and working with the fondant was really the last thing we had to do in order to finish our cupcakes. So after poorly rolling our fondant one-handed for 3 minutes, Netflix decided, eh, that was not enough of a challenge! When there were 13 minutes left on the timer, we all had to stop and salsa dance! Which ok, it was fun, but the timer did not stop! So now we have even less time to finish our alien cupcakes and made a mad dash to make our cupcake look as much like the picture as possible.
We completed our cupcake with 2 minutes to spare, and while it did not look EXACTLY like the picture, it was close, and we were happy with it. We were happy for about 10 seconds. Then our alien started caving in on himself very slowly. He just looked…melted. So, we started scrambling to fix him with 1 minute to go! My aunt put a spatula behind him to keep him upright, and we started rearranging the tentacles and eyeballs, hoping the sticks that held them up would help the cupcake stay up. Nope, nothing helped, and he completely fell apart into multiple pieces. There were 10 seconds left on the timer, and we tried to decorate a new cupcake, a fool's goal. The timer ran out and Netflix started spotlighting the finished cupcakes. They lingered on our sad, melted, demolished cupcake a bit longer than I was hoping (probably laughing as hard as we were). Needless to say, we did NOT nail it.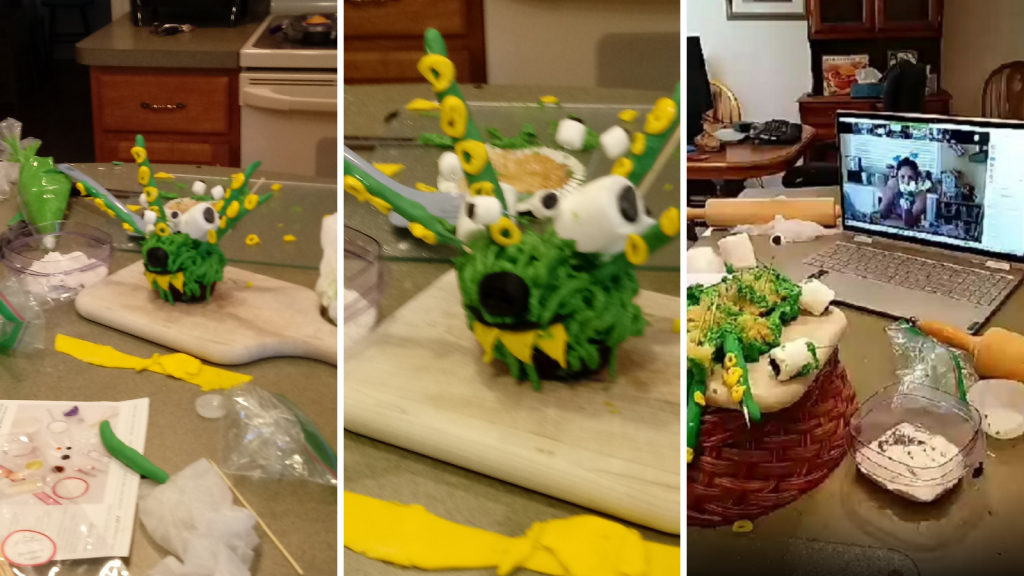 What we did nail was a sense of normalcy. It was great being in the kitchen with my aunt laughing and having a good time. So much so that we decided to go bowling with the family. We didn't want the night to end, and I was shocked by how much people were out and about. I don't think it's something I would do often (the bowling, not the challenge) even though I wore my mask the entire time and washed my hands often. We are still very much dealing with COVID-19, and staying healthy is one of my top priorities, but it was a sense of relief to know that life hasn't stopped completely, even if it means I made a fool of myself in front of hundreds of people and the host of Nailed It Mexico!