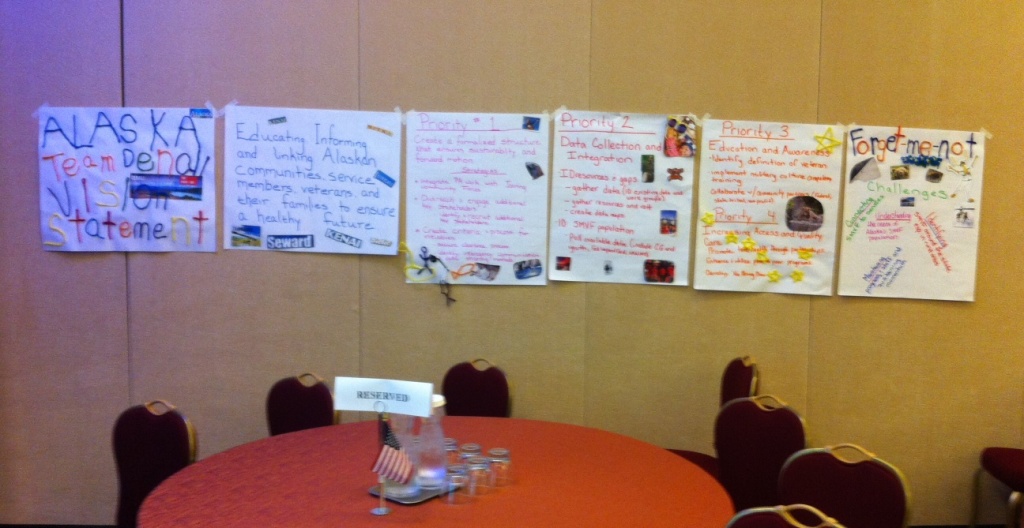 I was incredibly fortunate to attend the Service Members, Veterans, and their Families (SMVF) Policy Academy in Baltimore, Maryland earlier this month.  What an eye opening, valuable experience for me!  I am a "military brat" myself, so to meet and talk with current service members and veterans about military culture and the issues that they are facing coming back to civilian life was incredible for me. People from all over the country came to this meeting with one goal in mind: how to make it easier for this population to gain access to services that will help them live full, happy lives within their communities.  That is no small challenge.
My father was career military.  He served in Korea and Vietnam.  Within one year of his return to the states, he could no longer cope with the atrocities that he experienced during his wartime service.  Suicide was his answer.  It was 1967 and my mom was left to raise two teenagers and two toddlers.  Our family packed up and moved from Fort Benning, GA back to Latham, NY to be closer to our relatives.  Thankfully, my mother still had some military benefits which afforded our family to have a wonderful, stable, and healthy home.  That being said, it was bittersweet for me because I did not get to know my dad.  I never knew who he was.  I never knew what he wished for, enjoyed doing, or his hopes and dreams.  It was taboo to speak of him within the family.
Times were very different then.  Discussing personal issues or situations just didn't happen. It was not an option. People had secrets you just did not share and a mindset of just moving forward without dealing with the pain and sadness.  The world has come a long way since then.  We are open to communication, we have mental health services available and I will always wonder – if my dad were alive today and just returning from war would he choose the same path?
I am grateful that the men and women returning home now have a country that honors them and has the motivation and resources that they need and deserve. Some of you will remember, and some will have learned, that this was not the situation for those who returned home from Vietnam.  There was little or no respect at all.  I am glad I am a part of this era where we care enough to learn about the experiences from those who served in Desert Storm, Operation Iraqi Freedom and Operation Enduring Freedom.  The Policy Academy helped me realize that although things are better, there is still much more to be done.  For example, improving access to services for those who live in rural or frontier areas like Alaska, or adapting services to take into account the cultural differences at play, not just military culture but regional and even tribal cultures. These are all challenges I witnessed Policy Academy teams attempting to tackle during this meeting. All in all, I learned a great deal. It was an invaluable experience for me and I am so thankful that I had the opportunity to attend.