Introduction
The end of the year is a time of reflection both in appraising the progress made and developing next steps for the coming new year. From the many questions fielded by the GAINS Center, it is clear that a central concern remains in the community around funding critical mental health and substance use treatment services and programming, within the criminal justice system and the community. As your agency or jurisdiction looks forward to the new year, here are some funding approaches for you to consider: Pay For Success, Social Impact Bonds, and traditional Federal grant opportunities.
Pay for Success
Pay for Success (PFS) has been gaining traction in the United States as an innovative approach to funding impactful and cost-effective social service programs. PFS is a contracting mechanism that connects funds to measurable outcomes. In contrast to typical contractual models, a payor (often a government agency) commits funds to specified outcomes but does not pay for operating expenses up front. As the program achieves markers of success, payment is issued by the payor. In PFS, the service provider assumes the financial burden and, ultimately, the success of the overall program, not the government agency and tax-payer dollars.
Unlike traditional government funding, which rewards programs for the quantity of people served, PFS outcomes measure the program's effectiveness in improving the quality of life of program participants. PFS allows programs to operate without government constraints on how to shape services, promoting creative and innovate interventions that might not be reimbursable in traditionally-funded programs. As a model that reduces the burden of the start-up cost of social programs from the government to private entities, while also improving the quality and long-term effectiveness of service delivery, PFS has generated bi-partisan political support and PFS programs have continued to gain ground across the country.
Santa Clara County Partners in Wellness program is one example of a program using PFS to encourage proactive and preventative spending on healthcare, with the expected outcome that redirecting consumers from costly emergency services to preventative care, though requiring a more substantial initial investment, will save money and result in better health outcomes in the long-term. Serving 250 individuals under an Assertive Community Treatment (ACT) and Full Service Partnership (FSP) services with housing supports, the Santa Clara County Partners in Wellness program has already produced some very positive preliminary results in their first year.  The program's objective is to reduce the frequent utilization of emergency, inpatient, and psychiatric services by individuals experiencing severe mental illnesses (SMI) and substance use disorders (SUD). The program seeks to promote and maintain overall health and wellness by providing Intensive Case Management services that connect people served with preventive healthcare, such as primary care. Helping people to cope with their symptoms, environmental triggers, and daily stressors prevents the need for emergency services.
In the 6 years since the first PFS launched in the United States, the funding mechanism has allowed for exploration of new treatment modalities, more effective services for people in need, and establishment of inter-agency and government partnerships that many areas have maintained following the PFS program. Kimberly Bailey, Senior Associate of the Pay for Success program from Nonprofit Finance Fund, explains that, "the PFS mechanism is simply a tool, and it is important to look at what you want to achieve." Many agencies that explore PFS ultimately may not move forward using PFS as the funding mechanism, but develop stronger working relationships and innovative approaches to treatment because of the in-depth conversations and the partnerships that are formed during the exploration process. Whether program success is achieved using PFS as the funding structure, or as the impetus for future programming under a different funding mechanism, PFS has been valuable in getting community and government agencies to think differently and collaborate effectively.
Pay for Success using Social Impact Bonds: A Provider's Perspective on the Early Success of the Denver Social Impact Bond program
Social Impact Bond (SIB) programs blend the Pay for Success contractual piece with a "social impact bond" or operating loan from a private investor to help the service provider with upfront costs. As many social service agencies are unable to provide services without financial support, an independent investor is included in the partnership to cover operating expenses. As the program achieves markers of success, the independent investor (rather than the service provider) receives payment from the payor (usually, the government), often with interest. If the program doesn't meet its goals, there is no payout to the investor. In the PFS-SIB model, the independent investor assumes the financial burden and, ultimately, the success of the overall program, not the taxpayer-funded government agency.
Throughout its 32-year history, the Colorado Coalition for the Homeless (CCH) has been an early adopter of cutting-edge innovations aimed at solving homelessness. Denver's SIB program, launched in February 2016, has allowed CCH to fully fund housing-first services for some of Denver's most vulnerable citizens. Traditionally funded programs pay for services through a patchwork of various sources, from Medicaid and rental vouchers to grants and fundraising. In contrast, the SIB program has had at its disposal all of the funding necessary to keep people stably housed. The program still utilizes traditional funding sources such as Medicaid and rental subsidies; the difference is that the SIB alleviates pressure to find funding for the non-billable supportive services that are necessary for success in maintaining housing stability, such as case management and housing counseling.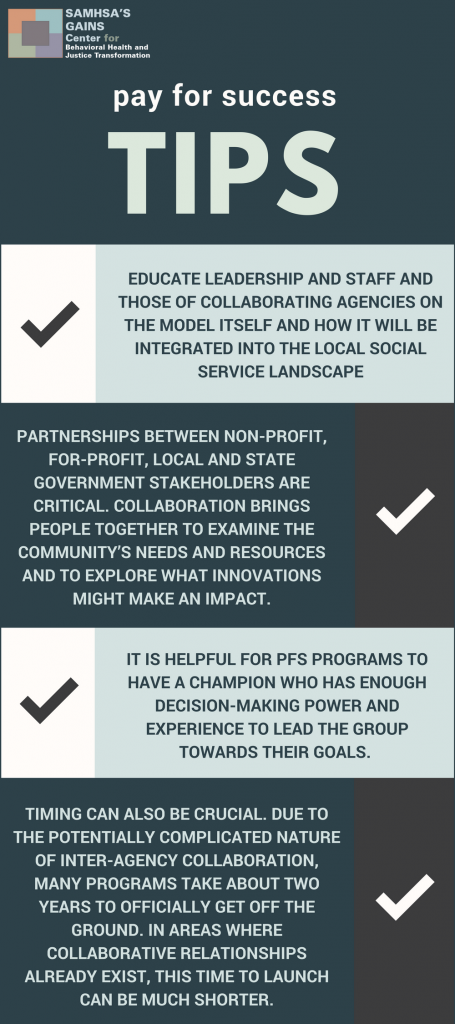 Through the SIB model, the emphasis on outcomes helps generate robust data about the program's efficacy, which is often missing in real-world practice. In Denver, the city government refers individuals who meet the program criteria to participate in the SIB program through blind and randomized controls. The use of randomized control initially caused hesitation among provid
ers; there were concerns the referral method could mean individuals within the targeted population wouldn't be served. These hesitations were alleviated when it became apparent that the number of people in Denver who need these services greatly exceeds the program's capacity. This unconventional referral process also helps ensure that people with significant challenges and barriers to housing do not fall through the cracks. Rather, people who have had eight interactions with the justice system in the past 3 years and are also experiencing chronic homelessness are identified to providers, and the program is responsible for locating these individuals wherever they are, be it street, shelter, jail, etc. This approach ensures the program serves individuals who have traditionally been high utilizers of the most expensive services, including emergency medical care.
Data gathered from the Denver SIB program is helping to make the case for the efficacy and cost-savings of housing and wraparound services for people who are experiencing chronic homelessness and criminal justice involvement. Cathy Alderman, CCH Vice President of Communications and Public Policy, hopes that through the SIB's rigorous emphasis on outcomes, Denver will be able "to put on display the best practices we've implemented, so no other city can say, 'we don't think housing works.' Housing with wraparound services can make a real impact on solving homelessness." CCH's implementation of housing first is promising; multiple research studies have demonstrated and predicted significant cost savings to taxpayers.
Many service providers, government officials, and philanthropic communities are committed to solving the problem of homelessness, and other social problems; however, there is often a focus on meeting immediate needs such as food, crisis management, and emergency shelter. In order for PFS and SIBs to be successful, partners must be willing to balance the necessity of addressing immediate needs with a commitment to long-term, comprehensive, and creative solutions.
Learn More…
Sources for learning more about creative ways to fund effective services:
Traditional Funding Approaches
While creative funding approaches can help ensure sustainability in the long term, some jurisdictions benefit greatly from grant funds that help start or boost new or existing programming.
Grants.gov is one of the best places to search for Federal grants related to mental health or substance use treatment opportunities. The following opportunities are currently listed. Please note: Listings posted as a "Forecast" are not yet released. We encourage you to watch for possible funding opportunity announcements if and when a grant competition will take place. Also, keep in mind that the 2018 Federal fiscal year began October 1, 2017 and ends September 30, 2018.
TI-18-003: Offender Reentry Program – Application Closing Date: January 26, 2018
TI-18-020: Opioid State Targeted Response (STR) Supplement – Eligible applicants are Opioid STR grantees with the top ten highest rates of overdose deaths in 2015 according to data reported by the Centers for Disease Control and Prevention. The following are those ten states: KY, MA, NH, NM, OH, PA, RI, TN, UT, and WV.
RFA-MH-18-705: Development of Psychosocial Therapeutic and Preventive Interventions for Mental Disorders – Clinical Trial Required
RFA-MH-18-704: Development of Psychosocial Therapeutic and Preventive Interventions for Mental Disorders – Clinical Trial Required
TI-18-006: Co-Occurring Disorders – Treatment for Homeless – Forecast
SM-18-005: Grants to Establish and Expand Jail Diversion – Forecast
TI-18-007: SBIRT-State – Forecast
TI-18-009: Medication Assisted Treatment – Prescription and Opioid Addiction – Forecast
Funding opportunities through the U.S. Department of Justice are often listed on their website. While no current opportunities are listed, you may want to watch this page for future activity:https://ojp.gov/funding/Explore/CurrentFundingOpportunities.htm.