Policy Research Associates, Inc. (PRA) has named Sarah L. Desmarais, PhD, as the new President for the organization, effective May 2022. Pamela Clark Robbins, one of the founding members of PRA, will retire at the end of the year after 35 years of service to the organization, including 6 years as President. Dr. Desmarais joined PRA in May 2021 as a Senior Vice President.
Ms. Robbins has been in a key leadership role at PRA for decades, balancing her involvement in research at the intersection of behavioral health and justice—which began with the New York State Office of Mental Health and continued at PRA—with her management role at PRA. Initially a part of the leadership team, 6 years ago, she became President after PRA founder Henry J. Steadman retired. During her tenure at PRA, Ms. Robbins has grown the firm in both size and scope, expanding PRA from one research project to a broad portfolio of national technical assistance centers, research studies, local and national evaluations, and fee-for-service activities. Through Ms. Robbins's management, PRA has emerged as a national leader in behavioral health-focused research, evaluation, technical assistance, and training. In addition, it has become one of the few certified Women-Owned Small Businesses in the field.
"Over the last 35 years, we have built PRA from one project into one of the nation's leading behavioral health technical assistance and research firms. It has been a pleasure to expand our impact in the areas of justice, systems mapping, income supports, homelessness, trauma, and service members, Veterans, and their families. I've been most proud of changing PRA to a woman-owned business, helping to create a diverse workforce with a culture of wellness and support, and making sure that connection and community service are part of our corporate culture. It is time for me to move on to the next chapter of my life and enjoy my retirement with my family and friends, and to take advantage of travel and volunteer opportunities."
"That move is made easy by the addition of Sarah Desmarais to PRA. I've known Sarah for a decade and felt she would be the perfect person to lead PRA forward. Sarah's professional expertise and interests are aligned with PRA's portfolio and mission of creating positive social change. Over her career, I have been impressed with her leadership and commitment to evidence-based public health approaches. Working with Sarah over the last year to plan our transition has further cemented that she will be the right leader for PRA. I look forward to guiding her through this leadership change and enjoying my retirement," said Ms. Robbins.
Since joining PRA in 2021, Dr. Desmarais has led the firm's Research and Evaluation area. Under her leadership, the area has grown the firm's research and evaluation portfolio by 300 percent and returned PRA to its original balance of research and technical assistance efforts. Over the past year, Dr. Desmarais and her team of collaborators have been awarded numerous research and evaluation studies, including the following cornerstone projects:
California Felony IST Continuum of Care Evaluation (California Department of State Hospitals), in which PRA will conduct an evaluation of the California Department of State Hospitals' felony incompetent to stand trial (IST) continuum of care efforts
Pretrial Risk Management in the Safety and Justice Challenge (University of Virginia/John D. and Catherine T. MacArthur Foundation), which will examine strategies to reduce detention and increase racial equity in pretrial decisions
Understanding the Frequent Utilizer Population in Jails: Examining Intersecting Needs and Strategies to Close the "Revolving Door" (Safety and Justice Challenge Research Consortium/City University of New York Institute for State and Local Governance), a multi-site investigation of strategies for reducing system involvement among people with mental health problems
Prior to joining PRA, Dr. Desmarais was a tenured Professor of Psychology and University Faculty Scholar at North Carolina State University. There she held leadership positions, including serving as Director of the Center for Family and Community Engagement and Coordinator of the Applied Social and Community Psychology Graduate Program.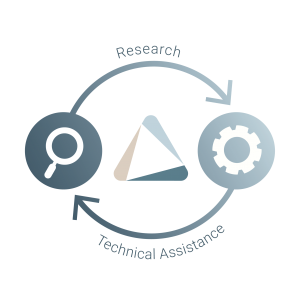 Incoming President Dr. Desmarais said, "I am honored to be named the next President of PRA. I have been aware of PRA's research and technical assistance since I was a graduate student. I feel privileged to carry forward PRA's impact and advance our work. In my new role, I plan to build on PRA's success by creating a symbiotic relationship between our technical assistance and research portfolios. Our on-the-ground expertise will inform our research and evaluation efforts, and the findings of our research and evaluation projects will keep our technical assistance and training at the forefront of evidence-based policy and practice and, ultimately, in the best position to support positive impacts on systems and communities."
She concluded by saying, "Pam and I have been working hand in hand for the past several months, and we will continue to do so through our transition. I am grateful to her for creating a firm that exercises its core values of commitment, inclusion, respect, and integrity with employees and the nation. I wish Pam a well-deserved, fulfilling retirement and thank her for her guidance as we make this leadership transition."
A new leader of PRA's Research and Evaluation area will be named in the coming months.
Related Links
Conversations on Leadership Podcast Series
Pamela Clark Robbins Biography
PRA Welcomes Senior Vice President Sarah Desmarais, PhD
About PRA
Policy Research Associates, Inc. (PRA) is a certified Women-Owned Small Business and is a national leader in behavioral health and research. We offer four core services that help individuals with behavioral health needs achieve recovery. In partnership with our close partner non-profit, Policy Research, Inc., we offer policy, research, technical assistance, and training services, primarily in the content areas of behavioral health; systems mapping; homelessness; income supports; criminal justice; juvenile justice; service members, Veterans, and their families; recovery support; consumers and family members; trauma; wellness; and education.