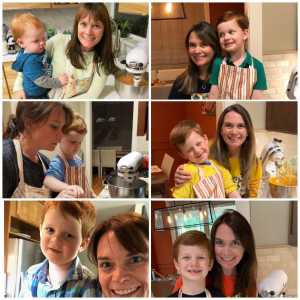 Eight years ago, on October 4, 2013, I baked some pumpkin bread. I was pregnant with my son, Alexander, who was 2 weeks late. (He didn't yet know me well and or understand how that was just not cool with me!) I was having contractions and trying to distract myself until it was time to go to the hospital.
My boss at the time, Deb Dennis, had shared her mother-in-law's pumpkin bread recipe on the recipe board at 345 Delaware. (I still have the email on 8/23/2013 from Abigail Lemon (now Kirkman!) sharing it with me as a remote employee.)
The pumpkin bread was the last thing I ate before Alexander was born and was the treat my family enjoyed in the hospital when they met our sweet, huge redhead the next day.
Now each year, my boy and I make pumpkin bread together on his birthday eve, as we did that first one.
Pumpkin Bread
Ingredients
3 1/3 c. flour
3 c. sugar
5 tsp. cinnamon
1 tsp. nutmeg
5 tsp. salt
2 tsp. baking soda
4 eggs
2 c. canned pumpkin
1 c. oil
2/3 c. water
Directions
Mix together all the dry ingredients
Add the water, eggs, oil, and pumpkin and mix well
Bake at 350 degrees for about an hour or until a knife stuck into the center comes out clean
Makes 2 loaf pans