Content warning: This blog post includes references to racially motivated violence directed toward Asian Americans and Pacific Islanders in the United States.
May is Asian/Pacific American (APA) Heritage Month, which celebrates and honors Asians and Pacific Islanders (API) in the United States. Last May, the Federal Asian Pacific American Council announced their theme for 2020 was to "Unite Our Nation by Empowering Equality," by focusing on "empowerment as a means to increase representation in the public, private, and non-profit sectors" and aiming to "demystify the Asian stereotypes of a docile and silent attitude to empower [APIs] to have a louder voice and tell [their] own narratives in the public discourse." However, in 2020 and 2021, the damaging and violent consequences of this lack of unity and equality and the perpetuation of racist stereotypes and xenophobic rhetoric have only become more visible, with anti-Asian hate crimes increasing by 145% in 2020 alone.
Despite the rise of anti-Asian sentiments due to the COVID-19 pandemic, anti-Asian racism is not at all new within our country. Prominent events and laws such as the Chinese Massacre of 1871, the Page Exclusion Act, the Chinese Exclusion Act, and Japanese-American Internment during World War II illustrate its long and systemic history. These earlier events and public policies can help shed light on the current circumstances. For instance, the Page Exclusion Act served as "a precursor to the dehumanizing narratives and tropes that render Asian women as objects of sexual fetishization and unworthy of being part of the national consciousness," a root cause of the recent 2021 Atlanta Spa Shootings that killed eight people, including six Asian women. The living potency of anti-Asian sentiment empowered the recent promotion of racist and blame-placing language that characterized COVID-19 as the "China Virus" and "Kung-Flu," despite the United States having the most confirmed cumulative COVID-19 cases in the world at the time of this writing. If you have not heard of one or more of these events, I encourage you to explore them through the hyperlinks provided above.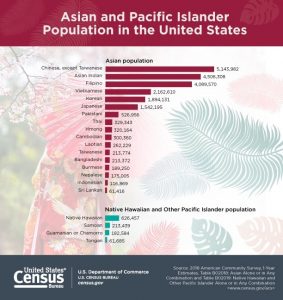 In this country, there is a common ignorance of Asian diversity that leads many Asian Americans to be misidentified as Chinese. In fact, there are 48 countries in Asia, and while Chinese Americans make up 5,143,982 of the U.S. population as of 2018, they are among a large and populous array of individuals from different Asian countries. But despite the diversity in experience, culture, and ethnicity, widespread anti-Asian hatred is felt and experienced by all API.
As of 2010, 14% of the Asian American population was mixed race. I, myself, am a mixed, quarter-Filipina and white woman who benefits every day from being white-passing, including within my own family. In the Philippines, there is a longstanding and pervasive culture of colorism—a side-effect of the colonial and white supremacist mentality which began with the arrival of the Spanish in 1565 and continued when "Spain ceded its longstanding colony of the Philippines to the United States in the Treaty of Paris." I see colorism within my own Filipino family manifested as the notion that everything  "white" is good. Despite my long dark hair and brown eyes, I grew up being called "Princess Diana" by my young Filipino cousins because of my mixed-whiteness. Similarly, they would tell my mother, who is half-Filipina, that she looked just like her white, blond-haired, and blue-eyed father, despite the obvious Asian features that led to her being mocked and called racial slurs during her school years in the 1970s. From my first-hand exposure to this, I believe that such colorism should not go unexamined. Why was my mixed-whiteness touted as better than my Asian brown-skinned cousins, aunts, and uncles? Why does my mixed-ness allow white folk to believe they can make anti-Asian remarks to me, with the prologue of "don't worry, we don't see you as Asian"? The answer here is truly very simple: the historical dominance of white supremacy within the United States and worldwide. This has determined whiteness to be the accepted western standard that dictates everything, including who has abundant economic opportunity and compounded generational wealth, who is perceived as a threat solely based on race, and who has access to mental and physical healthcare.
We must all do more than just recognize the white supremacy that is commonplace within the United States. We must truly challenge its existence through our actions not just by acknowledging the long-standing and widespread trauma it has caused for the 39.9% of people in this country that are not white, but by calling out racial injustice and inequity when we see it, protecting each other, and by amplifying the voices of others. I am grateful for Black Lives Matter activists who have courageously made their voices heard while supporting the API community and other marginalized people in doing the same. Although May is APA Heritage month, I hope that all people can continue to keep learning, listening, and acting outside of any given month to help shape a safe and thriving future for communities outside of their own.
"To be an ally is to be in practice. Speaking up when the issues are not in the news feeds, when hashtags are not trending, in moments that it does not actually benefit someone's image or platform, or in ways that people are not expecting, tends to be what makes the most difference."—Lyrica Fils-Aimé
API Resources