After boot camp and some subsequent training, I entered the Fleet Marine Force and checked into my first unit – 1st Tank Battalion, 1st Marine Division.  I was a young Private First Class at the time and had only owned the title of United States Marine for about nine months.  The crisp November air of the Mojave Desert smacked my face when I stepped off the bus.  Twenty-nine Palms, CA is a duty station riddled with myth and legend; the hardest of Marines that the Marine Corps has to offer train to fight and win wars in its sand and seclusion.
After I checked into 1st Tanks and had the weekend to get my bearings.  I was told by the officer on duty to be at the Intel Shop (S2) at 0830 the following Monday – after all I was an "Intel-bubba",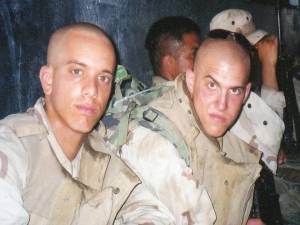 so it was where I needed to be.  After a boring weekend wondering what I had got myself into, Monday morning came along.  I was greeted by a rather ornery, but brilliant, S2 Officer; an unassuming, but equally skilled S2 Chief; and a few minutes later, a motivated, hard charging, Corporal of Marines named Luke Revell.  Cpl Revell would become my NCOIC (Non-Commissioned Officer in Charge).  Before I new it, Cpl Revell's motivation came spewing out of him and engulfed me.  Cpl Revell, the Intel Officer and Chief, and I would soon find ourselves, along with the rest of 1st Tanks, spearheading the invasion of Iraq in 2003.
As time went on and the places like Iraq, Australia, and Hawaii came and went, Cpl Revell and I became good friends.  But as with every Marine, staying with one unit only lasts so long and we two Marines went our separate ways.  Cpl Revell ventured across the pond and served in the UK for a few years before returning back to the west coast long after I said my goodbye to the Corps.
Today, Cpl Revell is Gunnery Sergeant Revell and I am a fat, BigMac-eating, nasty civilian.  We talk every so often via text message, email, Facebook, and phone.
I recently connected for a nice conversation with Gunny Revell and his motivation is still there and going strong – about a decade and half into his Marine Corps career at this point.  Given what I have come to know about Gunny Revell, it was no surprise that his motivation and professionalism has squirted out to arenas beyond his Marine Corps duties.
Together with his wife Emily, Gunny Revell began a charity event to support San Diego CA's Foster Youth Mentor Programs.  Now in its third year, the Barefoot BBQ is an annual event that raises money to support foster youth throughout the region.  It is of no surprise that with Gunny Revell and Emily at the helm, along with other partners, this event continues to grow and grow; Gunny Revell and Emily are fully intent on expanding the concept and hosting Barefoot BBQs coast-to-coast in major cities every year – with 100 percent of the proceeds going to foster youth programs.
The Barefoot BBQ is a worthy cause with committed individuals willing to put forth the time and effort to ensure that foster youth are taken care of.  All too often many of us may not realize the difficulties that foster children throughout the nation face.  But with charities and events like the Barefoot BBQ happening, foster children have the chance to feel some love and dedication from the community.  The Barefoot BBQ has one goal: putting confidence in the stride of foster youth in San Diego, raising awareness for their cause, while also supporting children's health and education around the world.