Application due date: November 30, 2022
SAMHSA's Service Members, Veterans, and their Families Technical Assistance (SMVF TA) Center is currently soliciting applications from communities interested in participating in Crisis Intercept Mapping Workshops. Crisis Intercept Mapping (CIM) is designed to bring together an interagency group of key stakeholders from the community (typically a county or city) to identify barriers and gaps in the community's crisis system serving SMVF and discuss ways in which best practices and partnerships can be implemented to close those gaps and reduce service member and Veteran suicide. Through the development of integrated local strategic action plans, evidence-based and best practices are integrated into the protocols of key community organizations. CIM teams are expected to be drawn, in large part, from local behavioral health, crisis care, and Veteran service agencies and organizations.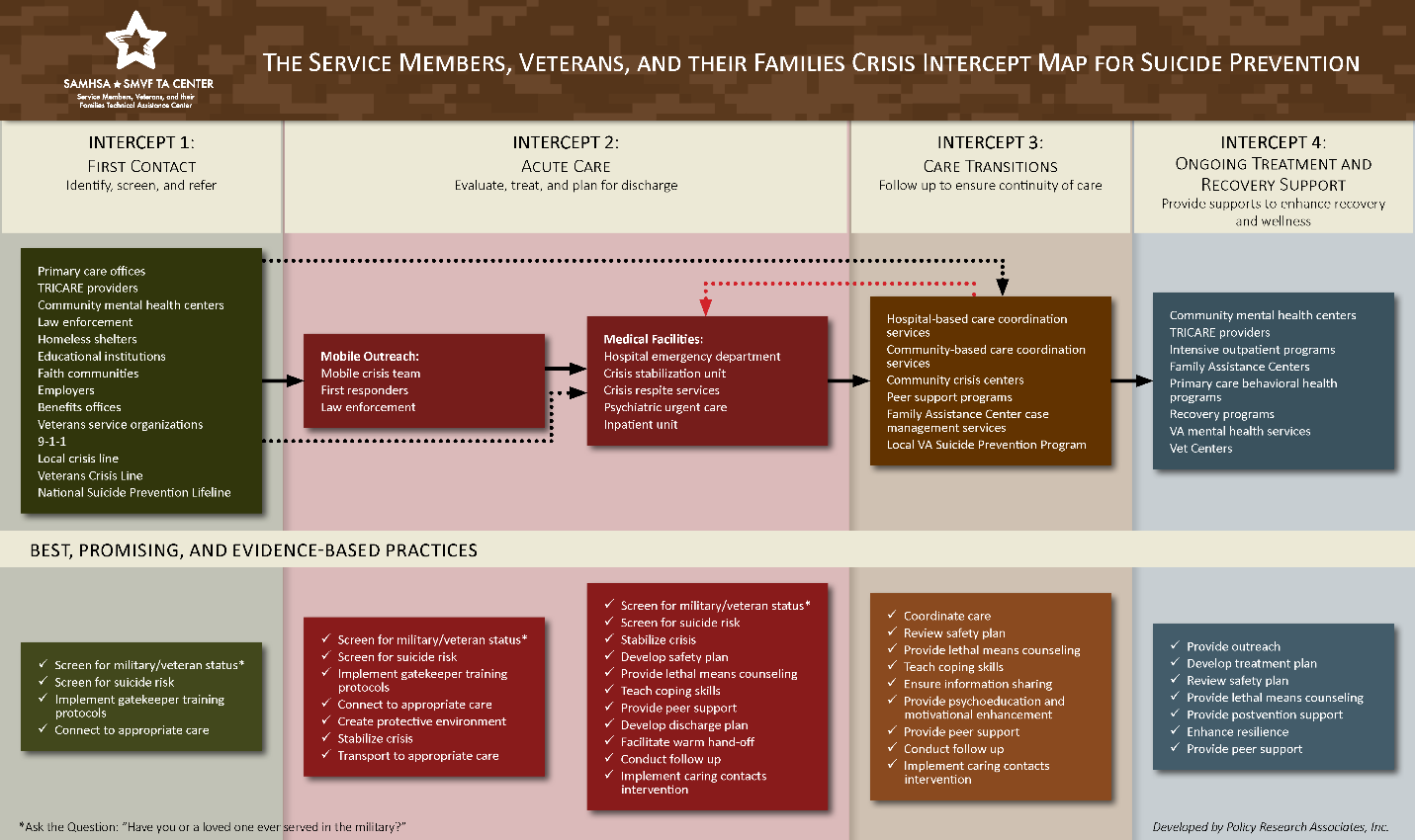 Focus of CIM Mapping Workshops
The SMVF TA Center is soliciting applications from communities that are interested in virtual and/or face-to-face CIM Workshops to be facilitated with teams within their jurisdictions. The workshops will broadly focus on identifying and responding to the needs of SMVF who are at risk for death by suicide.
Site Selection
SAMHSA's SMVF TA Center will provide the CIM Workshops free of charge to selected applicants between January and August 2023. There are no fees for registration, tuition, or materials associated with these workshops. The SMVF TA Center will cover all costs associated with facilitation, pre- and post-workshop planning and coordination, travel and lodging of CIM facilitators, SMVF TA Center data collection and analysis, and report development.
To apply for the CIM Workshop, please follow the solicitation link below and submit all information required no later than November 30, 2022.
For information about Crisis Intercept Mapping or this opportunity, please review the Overview and Guidance document or contact Philip Paty, SMVF TA Center, at ppaty@prainc.com.
Webinar | CIM for SMVF: Applications & Updates
For more information about the CIM, this webinar on November 16 at 1:00 p.m. ET will provide attendees with updated information regarding CIM for SMVF Suicide Prevention, as well as examples of how state-wide coordination of the CIM process can enhance crisis response across a range of communities. We will also present findings from an analysis of the results of CIM workshops provided to a wide range of communities over a period of 3 years. Participants will have an opportunity to learn how they can support SMVF engaging in the community crisis system and hear about opportunities for future engagement.