I was recently invited to attend the 2013 Homeless and Travelers Aid Society (HATAS) Home Sweet Gingerbread Home – Evening in Winter Wonderland. This event is an annual fundraiser for the local, not-for-profit organization dedicated to ending homelessness in Albany County (http://www.hatas.org/). HATAS was established in 1983 and has assisted over 155,000 households in need of assistance by working around the clock to ensure that those without homes in Albany County have shelter, food and heat. HATAS programs include, permanent supported housing, mental health, prevention and employment services, rapid re-housing and 24/7 emergency services.
The organization also works very hard to engage the community by scheduling events that encourage participation by local businesses, sponsors, other not-for-profit organizations and county residents. Home Sweet Gingerbread Home is one such event. HATAS organizes a gingerbread house building contest at the local mall where participants come from all around Albany County to put on their aprons and stretch their artistic legs in the recognition of the seasonal tradition that so aptly represents one of the main goals of their organization…creating decent, affordable housing.
Participants compete in different categories, such as "professional", designated for several local bakeries, "corporate" for the local corporate sponsors, and "novice". The gingerbread house entries are judged and prizes are awarded at the Evening in Winter Wonderland event. I was amazed at the variety and inventiveness of the entries that were on display as centerpieces of the night's silent auction. From the 1st prize precision of a local bakery…
…to the tribute to local architecture from a corporate sponsor…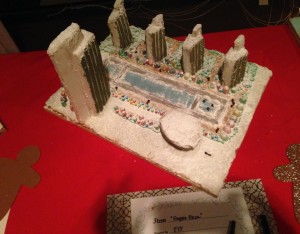 …to the imagination of a local Girl Scout troop…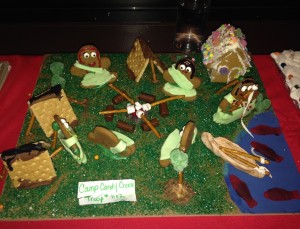 …the displays of talent, creativity and compassion were something to behold.
There was a festive holiday atmosphere to the event with plenty of mixing and mingling, light dinner fare and the presentation of contest awards. There was also time in the program for HATAS to recognize individuals they considered 2013 Champions in Compassion. I was touched by the dedication of the champions, and moved as they spoke of HATAS and its mission and how every little victory makes a difference in someone's life…and how that was really all that mattered. As I was leaving the event, I had to stop and take one more picture of one of the gingerbread house entries that I hadn't paid much attention to except to laugh at the "in your face" politics of it. In retrospect, I had to give credit where credit was due…it wasn't an award winner, it wasn't very pretty, but it sent the message, plain and simple, what we need is "More Affordable Gingerbread Housing."