People experiencing opioid use disorders (OUD) often face challenges accessing medication-assisted treatment (MAT), particularly in rural communities where services are fewer and farther apart. MAT involves one of three medications approved for OUD treatment—methadone, buprenorphine, or naltrexone—along with counseling or behavioral therapies. In Delaware, Brandywine Counseling and Community Services (BCCS) has been working to help communities flourish for over 30 years. The organization has grown its program services and locations over the decades, sustaining its core mission to provide substance use and behavioral health treatment that respects the dignity of its clients.
Rural areas across the state in general offer insufficient programs and services for individuals with mental and substance abuse disorders. To improve access to MAT, BCCS provides opioid treatment in and near Castle, Kent, and Sussex counties. Rurality is not the only barrier to access for community members seeking treatment. According to BCCS Director of Treatment Adar Wells, MBA, CADC, other obstacles can include transportation, stigma, disability, or time constraints that prevent people from engaging in a traditional outpatient program. "So," Wells says, "we bring the services to them."
Support for Treatment and Recovery Services (STARS) is the BCCS mobile MAT services program, which allows treatment service providers to meet people closer to where they are. The mobile vehicle is outfitted with a nurse practitioner, a peer, and a counselor so clients can get light wound care, MAT, counseling, mentoring, and more without having to get themselves to a brick-and-mortar building. BCCS maintains a list of locations, dates, and times for the mobile van on their webpage, which is continuously updated.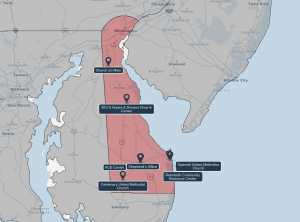 A significant factor in BCCS's success with the STARS mobile MAT program was finding community members and institutions that supported their work. In this instance, it was the churches that made the project a success. Wells recalls that following a significant amount of community outreach, "a lot of churches reached out after hearing about our services." Wells continues, "Although it started off with us coming and educating the congregation, eventually it turned to us providing direct services right outside." Many of the locations where the MAT van stops are near rural community churches.
STARS is the legacy of BCCS's Community Outreach and Prevention Education (COPE) initiative, which aimed to expand access to MAT services for adults with OUD in Delaware's most rural and underserved counties. Individuals reentering the community from jail or prison, those who are homeless, and other at-risk populations are prioritized for services. Based on the COPE initiative's final report, the organization was successful in its aims, having served over 200 individuals over 3 years. BCCS points to success stories that demonstrate the benefit of broadening services and prioritizing populations who are justice-involved or experiencing homelessness, such as that of a man with OUD who started working with the COPE Program in the community while living in a homeless encampment in Sussex County.
He was a client for nearly six months until he acquired some legal issues that led to incarceration. After completing his incarceration, he returned to re-engage with the COPE Program. He quickly returned to abstinence, found employment, and reconnected with family. His family gave him housing, dramatically reducing the risks he encountered while being homeless.

BCCS- Programmatic Report on COPE
Rural community members across Delaware are seeing the benefits of having a mobile MAT program. There is much flexibility to providing a MAT van at multiple sites; for example, if a person misses the van at the Georgetown location, they can check the schedule and find the van at its next location. "I think the mobile van puts some control back into the [individuals'] hands," reports Wells. "They can choose what point in that window of time to come [for MAT dosing]. Then, they have the option to do electronic interaction or telehealth for their counseling appointments."
The mobile MAT program also helps educate the community about this treatment by making it more visible and accessible to people who need it. "There are so many stigmas [about substance use and MAT]," Wells says. "In southern Delaware, there are still a lot of people that don't know about treatment services, so more boots on the ground and community outreach are helpful to generating community involvement."
Like what you've read? Sign up to receive the monthly GAINS eNews!