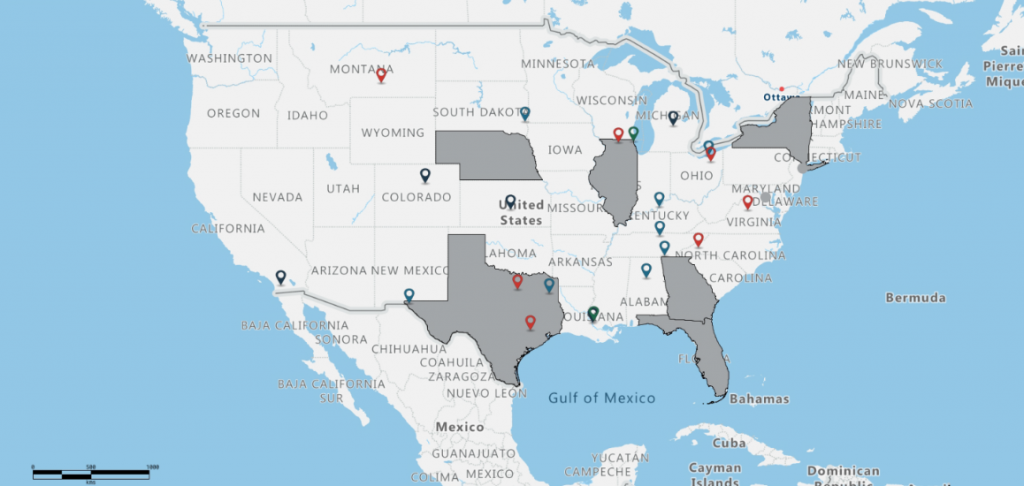 SAMHSA's GAINS Center is pleased to announce the awardees of the five 2019 Criminal Justice Learning Collaboratives! Each Learning Collaborative will bring together six local teams for an intensive learning, strategic planning, and implementation process to address local issues and needs within a given topic area.
SAMHSA's Eight Guiding Principles for Behavioral Health and Criminal Justice
This Learning Collaborative is designed to assist community-based behavioral health providers in their clinical and case management practices with persons with mental and substance use disorders who are currently involved with, or have a history of involvement in, the adult criminal justice system. The eight awarded sites are:
Jefferson County, Alabama
Metro Louisville/Jefferson County, Kentucky
Cuyahoga County, Ohio
Sioux Falls Drug Court, South Dakota
Chattanooga, Hamilton County, Tennessee
Jackson-Madison County, Tennessee
El Paso County, Texas
Five-County East Texas Regional Area (Upshur, Gregg, Harrison, Rusk, Panola Counties)
Competency to Stand Trial/Competency Restoration
This Learning Collaborative is designed for states that are prepared to focus on legal, clinical, and systemic issues, including the increased demand for competency evaluations, evidence-based screening and assessment measures, waiting lists for competency restoration program beds, best practices for competency restoration programs, building collaborations between state and local agencies, and other relevant issues. The seven awardees are:
Florida
Georgia
Illinois
Nebraska
New York
Washington, DC
Texas
Family Treatment Courts
This Learning Collaborative is designed to improve practice within existing Family Treatment Court programs with an eye toward cross-systems relationships and strategies. The seven awarded sites are:
Winnebago County Family Drug Court, Illinois
Yellowstone County Family Drug Treatment Court, Montana
Buncombe County Family Drug Treatment Court, North Carolina
Summit County Family Reunification through Recovery Court, Ohio
Tarrant County Family Drug Court, Texas
Travis County Parenting in Recovery/Family Drug Treatment Court, Texas
Charlottesville/Albemarle Family Treatment Court, Virginia
Improving Risk-Need-Responsivity Policies and Practice in Adult Drug Courts and Reentry Programs
This Learning Collaborative is focused on advancing policies and practices around Risk-Need-Responsivity in adult drug courts and reentry programs. The five awarded sites are:
San Diego County Superior Court, California
Jailed Based Behavioral Services Substance Use Disorder Program, Colorado
Reno County Adult Drug Court of the 27th Judicial District, Kansas
East Baton Rouge Parish Louisiana/The 19th Judicial District Drug and Reentry Courts, Louisiana
Gratiot County 65B District Court, Michigan
Data-Driven Equity & Inclusion
This Learning Collaborative is focused on creating and implementing strategies to reduce disparities in local criminal justice and behavioral health systems.
Lake County, IL
East Parrish Baton Rouge, LA